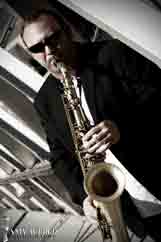 Quick Links:
On The Web:

UPCOMING EVENTS: Linda Lee Michelet April 23 at Wilf's • April 29 Coyote's in Hillsboro • May 9 Chris Baum Project at Vie de Boheme • May 16 Chris Baum Project at Red Lion Jantzen Beach • May 22 John Dover Big Band at Duff's Garage

"Petersen's an accomplished player. He has a big, throaty tone and a blowzy, swashbuckling style with the conversational touch of old-time sax players." --- Paul de Barros, Seattle Times
Pete Petersen is a saxophonist and multi-instrumentalist from the Pacific Northwest. His exciting musical fluency and his ability to seem completely at home in a variety of different musical styles have made him one of the area's most in-demand players.
In addition to his strength as a performer, Pete Petersen also is a very gifted and diligent orchestrator. His work has been featured on film soundtracks, national touring bands, and recordings. He has arranged and orchestrated horn sections for several working musical artists around the area including Patrick Lamb, Ellen Whyte, Solomon Douglas, and Chris Baum.
Pete Petersen is available for local engagements as well as national tours. Call or email now to book/check availability!
Full Bio:
Pete Petersen first became hooked on jazz & blues music as a teenager in Boise, Idaho, when he heard pianist Gene Harris playing in a local club. Gene was playing in a bar that Pete was much too young to get in to legally at the time, so he would sit in the restaurant section and listen from behind the partition.
Later in life, he cut his musical teeth in Denver, Colorado, earning a Bachelor of Music degree from the University of Denver's Lamont School of Music, while going out at night to sit in with local jazz heavyweights like Keith Oxman, Bruno Carr, Ron Miles, and Stefan Karlsson. While in Colorado he was a member of groups that were selected to be finalists in the prestigious Hennessey™ Jazz Search competitions 2 years in a row. He was featured with the band Page IV backing up vocalist Kevin Mahogany on NPR's nationally syndicated JazzSet program. Since relocating to Portland, Oregon, in 1994, he has worked his way to the top of the city's renowned music scene. As a sideman, he has performed with a virtual "who's who" of jazz and swing notables from up and down the west coast, including the Harry James Orchestra, Bay Area boogie-woogie legend Mitch Woods, swing diva Lily Wilde, the Portland Jazz Orchestra, Grammy-nominated saxophone sensation Patrick Lamb, and Seattle pianist/bandleader Solomon Douglas. He is currently a full-time member of the horn section for award-winning blues songstress Ellen Whyte. He is regularly called to play in horn sections for nationally touring groups that run the length and breadth of the stylistic spectrum, from Lynyrd Skynyrd to the Jimmy Dorsey Orchestra. He arranged and performed on a recording co-produced by Howard Crosby, the nephew of legendary crooner Bing Crosby. As a leader, his band "Porkpie" has hit the national stage, playing jazz and swing festivals in Chicago, Denver, Seattle, and beyond. He has also been featured as a solo performer at jazz festivals throughout the region. His critically-acclaimed CD release, entitled "Keep Your Hat On", was released internationally on Pony Boy Records. Pete Petersen is a proud endorser of Audix™ Microphones and sound equipment. Pete plays RPC Mouthpieces.
---
Reviews:
"Petersen's an accomplished player. He has a big, throaty tone and a blowzy, swashbuckling style with the conversational touch of old-time sax players." --- Paul de Barros, Seattle Times
"Get ready for some swinging, down the center of the groove, well-paced, scintillating straight ahead jazz and bop from a Portland cat who writes and plays in the best of the tradition. ...Every [tune] rings out with the joy of playing the real deal." -- George Fendel, Jazz Society of Oregon writer/critic at large
"This group, their arrangements, and musical choices are a big band at its best." --- Mary Burlingame-producer/host, HomeGrown Live KMHD 89.1 The Jazz Station www.kmhd.fm
Porkpie plays spirited, with enthusiasm and like they're having fun with it. Their album is a must have in my collection. - Tim "Java Man" Taylor KMHD 89.1 FM the Jazz Station
---
Selected Discography:
The Pete Petersen Quartet: Silver Lining (1998, Four Flavors Music)
Stan Bock: Of Fathers And Sons (1998, Stan Bock)
Lily Wilde and her Jumpin' Jubilee Orchestra: Insect Ball (2000, Lil Tom Tom Inc)
Howard Crosby: Pennies From Heaven - A Special Tribute (2003, Panjandrum)
Klezmocracy (writing credit only) (2003, entrance records)
Porkpie: Hats Off (2004, Four Flavors Music)
Donny Osborne: Live at Tony Starlight's (2007, Poltun Entertainment)
Pete Petersen and the Porkpie Septet: Keep Your Hat On (2008, Pony Boy Records)
Ellen Whyte: Four Way Stop (2009, Amallegory productions)*
Solomon Douglas: Live at the Legion (2009, Caffeine Spider Records)
Linda Lee Michelet: One Kiss (2010 Eader's Bakery)
Kim Massie w/the Solomon Douglas Swingtet: Soul Serenade (2012 Caffeine Spider Records)

*nominated for 2009 Grammy award for "Best Contemporary Blues Album"

Film Scores:
The Adventures of Dex Dixon (dir. Steve Coker) (comp. fight sequence music, contracted & performed with studio orchestra)

---
Notable Past Performances:
As Headliner/Bandleader

Winter Park Jazz Festival Winter Park, CO (1993, the Petersen/Barela Five)
Cathedral Park Jazz Festival Portland, OR (1997, the Pete Petersen Septet)
Gene Harris Jazz Festival Boise, ID (2007, Pete Petersen with the Frim Fram Four)
Chicago Swing Music Festival Chicago, IL (2006, Porkpie Septet with Karen Maria Capo)
Denver Lindy Exchange Denver, CO (2006, Porkpie Septet with Karen Maria Capo)
Seattle Lindy Exchange Seattle, WA (2004 with Porkpie, 1999 & 2000 with Lily Wilde)
Concerts at Carnegie series Oregon City, OR (2006, Porkpie)
Portland Lindy Exchange Portland, OR (2002 w/ Lily Wilde, 2004, 2006, 2009 w/ Porkpie)
Jazz at The Bistro Boise ID (2007 the Pete Petersen Quartet)
Swing Camp 5280 Denver CO (2007 the Porkpie Septet)
Krugers Farm Summer Concert Series Sauvie Island, OR (2007 the Porkpie Septet feat. Ellen Whyte)
Portland Winter Gala / Mayor's Ball Portland OR (2009 the Porkpie Septet w/Storm Large)
2009 Gene Harris Jazz Festival Boise ID (Pete Petersen & the Porkpie Septet)
2009 Waterfront Blues Festival Portland OR (Pete Petersen & the Porkpie Septet feat. Ellen Whyte)
2012 Cathedral Park Jazz Fest Portland OR (Pete Petersen Seven feat Alyssa Schwary)


As Sidemusician

Telluride Jazz Celebration Telluride CO (1994, w/ Kevin Mahogany & Jack Walrath)
The Bite of Portland Portland OR (1997 w/Soul Vaccination; 1999, 2000 &2001 w/Lily Wilde; 2003 w/Johnny Martin; 2006 &2007 w/Patrick Lamb
Waterfront Blues Festival Portland, OR (1999 & 2000 with Lily Wilde, 2008 with Ellen Whyte, 2010 & 2011 with Patrick Lamb, 2012 with Ellen Whyte)
Swingout Northwest Port Townsend, WA (2000 w/ Lily Wilde; 2006 w/ Solomon Douglas)
Bumbershoot Seattle WA (2001, with Lily Wilde)
NW Festival of Wine and Jazz Walla Walla, WA (2003, with Howard Crosby)
Big Bamboo Ball Seattle WA (2004, with Lily Wilde)
The Jimmy Dorsey Orchestra (2005, various dates & locations)
Lynyrd Skynyrd 2005 Tour Horn Section, Portland, OR (2005, Memorial Coliseum)
Mt Shasta Blues Festival Redding, CA (2007, with Ellen Whyte)
Portland Erotic Ball Portland, OR (2007 with The Big Package)
Mount Hood Jazz Festival Portland, OR (2007, with Patrick Lamb)


The Harry James Orchestra (2010 - 2012 various dates and locations)













Swingin' Jazz from
the Pacific Northwest